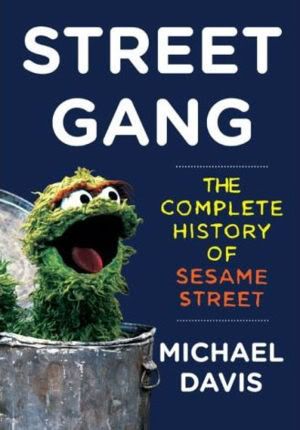 Sesame Street was, and still is, a huge forming influence for millions of children. I know it was for me. In fact, most of what I remember from my childhood involved Sesame Street. I'd watch it whenever it was on, I had the read-a-long books, and I had Sesame Street toys. To this day, Christmas on Sesame Street is one of my two most favourite Christmas movies
1
and the Sesame Street float is my favourite float in the Macy's Thanksgiving Day Parade.
Hell, if I walk past a TV and Sesame Street is on, I'll watch it. I'm 21 years old.
Street Gang is an in-depth look into how Sesame Street came into being. Author Michael Davis goes all the way back, taking a look at the start of children's television, the creation of The Muppets, and the biographies of all of Sesame Street's founders and performers. In fact, you have to read more than half the book until Sesame Street actually starts filming, but the amount of talent and determination that is documented in that first half of the book is extremely fascinating.
Of course, once the book gets into the filming and airing of the show, you get to learn more about all the characters that you adored as a child. Street Gang tells the story of all the separate Sesame Street Muppet characters and how they came to be, and it gives a short biography of all of the human characters. It's truly inspiring to see how some of the cast and crew became a part of the show.
I have to warn you though, folks. There are very sad parts in this book. The prologue alone can cause tears; it's a partial account of Jim Henson's memorial service. The rest of the account, naturally, shows up towards the end of the book for more tragedy.
As sad as that scene is, I was really too young to remember Henson's death, but that didn't stop this book from finding something very sad that I do remember—the death of Mr. Hooper. Although Will Lee died in 1982, and the subsequent episode concerning Mr. Hooper's death originally aired in 1983, I can still remember watching that episode in later years, especially the scene outlined in the book -- Gordon explaining Mr. Hooper's death to Big Bird. I mean, I could hear Big Bird's lines as I read them on the page.
But enough about that. Street Gang is a wonderful celebration of everyone's favourite children's show and it's a book that I definitely recommend to anyone with fond memories of Sesame Street.