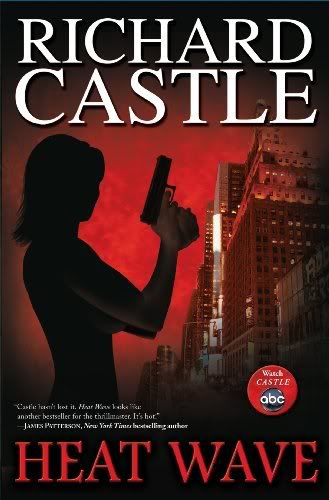 Heat Wave
If you don't know, there's a show called Castle on ABC starring Nathan Fillion and Stana Katic. Richard Castle (Fillion) is a playboy murder mystery novelist who convinces his judge friend to let him shadow Detective Kate Beckett (Katic) for inspiration for his new novel. Of course, tough talking, ass-kicking Beckett is none too pleased with this arrangement. Brilliant biting dialogue ensues as their unlikely teamwork solves the case.
Naturally, if you have a television show about a murder mystery novelist, you have to put out a murder mystery novel. So, of course, ABC published a book called Heat Wave by Richard Castle.
I wasn't expecting to enjoy this book as much as I did. I suspect that is because I enjoy the show so much. The book very much mirrors the show: Detective Nikki Heat has to lead journalist Jameson Rook around as he works on a piece about the homicide division of the NYPD. Of course, tough talking, ass-kicking Heat is none too pleased with this arrangement. Someone is murdered. The two are on the case. Brilliant biting dialogue and barely restrained sexual tension ensue.
Now, I probably enjoyed this book for all the wrong reasons. Sure, the story was well written and intriguing and I found solving the case to be very exciting, but I was more interested in what this book said about Rick Castle. It is a first person narration from Nikki Heat's point of view and I immediately started getting into Castle's head and examining how he perceived Kate Beckett and their relationship. If you know what to look for, you can get some really deep insight into Castle's character when you read Heat Wave this way. Figuring out Castle was more important to me than the actual story being told.
That being said, I would still recommend this to anyone who loves a good murder mystery. This book has all the twists and seemingly innocuous connections that a 'real' mystery novel would have. It works perfectly well as its own narrative. I think having prior knowledge of the show Castle does give the book more depth and scope, but it still perfectly readable without it.
And of course, if you are a fan of Castle, I would most definitely recommend this book. It's a great read when you can recognize all the characters from the show in the characters in Heat Wave and it enhances the experience of watching the show itself.