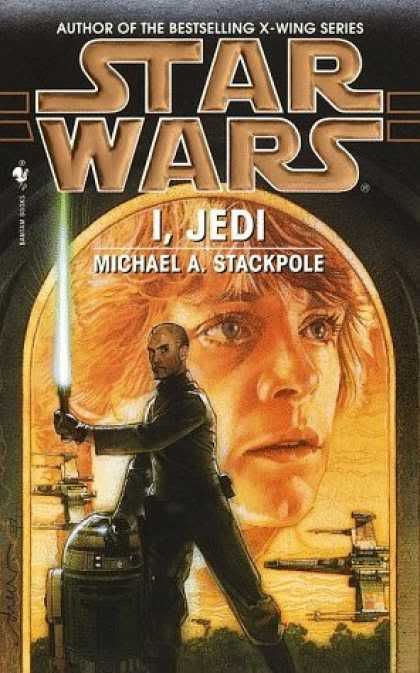 I, Jedi
Corran Horn has distinguished himself as one of the best and brightest of Rogue Squadron's elite fighting force. Then his wife, Mirax, vanishes on a covert mission for the New Republic, and Corran vows to find her. To do so, he knows he must develop the latent force powers inherited from his grandfather, a legendary Jedi hero. He joins Luke Skywalker's famed Jedi academy to begin training, only to quit in frustration of Skywalker's methods. Now Corran in on his own. Using his Corellian undercover experience, he must infiltrate, sabotage,m and destroy a ruthless organization in order to find his wife. But to succeed, Corran will have to come to terms with his Jedi heritage – and make a terrible choice: surrender to the dark side… or die.
I, Jedi is one of the classic books in the Star Wars extended universe. It's definitely one of the titles that people recognize immediately. It takes place after the classic Star Wars trilogy when Luke is starting up his Jedi Academy on Yavin IV. I'm actually really glad that I picked this one up because it provided a piece of the Star Wars chronology that I was missing. I had a gap between Luke deciding to start the Jedi Academy and the Academy going full swing. It was interesting to see Luke screwing up and trying to figure everything out.
I found it a bit odd at first that this book was in first person, but I am quite thrilled with Corran Horn as a character. I was fascinated with his thought process and how he adjusted to his Jedi training when it seemed to contradict his CorSec training. And I liked that we got to explore a character who is more or less ordinary. He grew up, had a family, got married, and was completely unremarkable except that he was good at his job until his wife went missing and Luke decided to bring him in to the Academy.
Also, more culture and history for Corellia. I enjoy culture and history for other planets. Nerd.
If you're a fan of Star Wars and you haven't read this book, you should. It's a wonderful book and really explores the Star Wars universe after the Empire has been disbanded. I'm going to start recommending this one to people who want to get into the extended universe but don't know where to start.