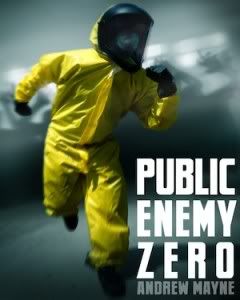 Public Enemy Zero
by Andrew Mayne

The world is out to kill Mitchell Roberts. A strange virus is on the loose sending everyone he comes in contact with into a homicidal rage. From narrowly avoiding getting murdered at his ex-girlfriend's front door, to a crowded shopping mall turned one-man zombie apocalypse, he's got to stay a step ahead of everyone around him if he doesn't want to get ripped apart alive. He'll need to use every resource he has, from the advice of a paranoid late night radio host, to his Twitter account and find out why he's become Public Enemy Zero.
This is one of two books I've bought from this self-published author on the Amazon Kindle store. I have been listening to an audiobook podcast of his first book, The Grendel's Shadow, but this is the first book of his that I've read in print. Andrew Mayne is another podcaster (the first podcaster author I reviewed was Boiling Point by Tom Merritt) as one third of the hosts for the Weird Things podcast. From what I've heard by him on the podcast, and what I've heard from the The Grendel's Shadow podcast, I had some high expectations for his writing, but I also had my reservations because of on the high expectations I had for Tom Merritt's book.
Public Enemy Zero did not disappoint. First of all, Mayne's premise for this book is one of the most interesting I've heard in a long time. He describes this book as a reverse zombie outbreak book. There is a virus exposed to the US population, but it only changes one man, who thinks nothing of being sick for a few days until people start madly attacking him wherever he goes.
He's confronted with murderous mobs, running from the law, and the media frenzy created by his unusual condition. He's faced with allegations of terrorism and government conspiracies and the ever increasing panic of not knowing how this could have happened to him. It's a thrilling chase from start to finish that had me anxious to learn how he was going to survive this bizarre chain of events.
And I won't spoil you, but his solution had me cheering at the end of this book. I couldn't believe my eyes. It's a brilliant idea and one I've never seen in a book before. My hat is off to Andrew Mayne.
I'd definitely recommend this one to folks who like a good thriller or near-future science fiction. My brain immediately likened this book to something between Shawn of the Dead and The Island. If that is your cup of tea, I'd definitely recommend this book.
It's $0.99 on the Amazon Kindle store if you consume books that way, but if not and you are interested in possible reading this book, please check andrewmaynebooks.com.