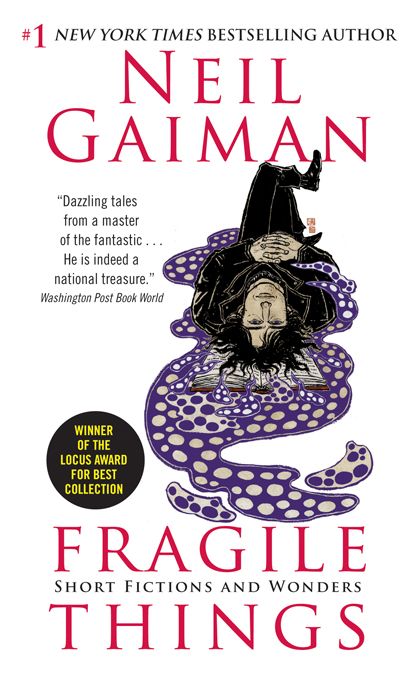 Fragile Things : Short Fictions and Wonders
by Neil Gaiman
If you've had a chance to look through this blog at all, it's clear to you that I am a fan of Neil Gaiman's writing. It'll be no surprise to you that I've added his short story collection Fragile Things to my library.
Fragile Things, for me, was a meander through the familiar and the strange. Most of this was due to the nature of Gaiman's storytelling; he excels at making the mundane mysterious and the fantastical commonplace. But this read-through doubled that feeling because I had read a few of these stories on Gaiman's website and listened to a few of these stories as audio recordings.
So, stories like A Study in Emerald, Harlequin Valentine. Instructions, and How to Talk to Girls at Parties were familiar and it was a joy to see them again. But I also had a great time discovering new stories like October in the Chair, The Problem with Susan, Sunbird, and Pages from a Journal Found in a Shoebox Left in a Greyhound Bus Somewhere Between Tulsa, Oklahoma and Louisville, Kentucky was also fantastic. Each story is distinct from its fellows and still distinctly Gaiman.
If you are a fan of Gaiman's work, you need to add this to your collection, and if you're unfamiliar, this is a great sampler of what the different kinds of writing and worlds that you can lose yourself in..