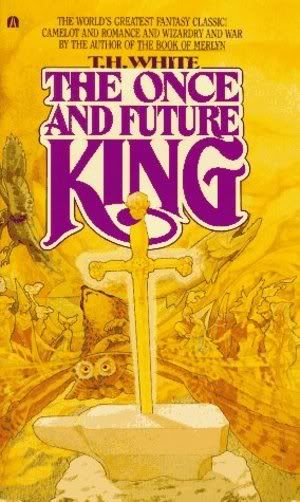 The Once and Future King
By TH White
Narrated by Neville Jason



The Sword in the Stone
The Queen of Air and Darkness
The Ill-Made Knight
The Candle in the Wind
The Book of Merlyn


I was kind of surprised with myself when I realized that I hadn't yet read The Once and Future King by TH White. It seems like the sort of thing that I really should have read before. I love Arthurian legend.
It came to my attention when I started listening to the podcast Sword and Lazer. It's a science fiction and fantasy book podcast which acts as a sort of book club and I started listening just as they were picking a new book to start reading. They chose The Once and Future King, which is quite an endeavor for a book club because it's quite long. I wanted to participate, but I started listening in November, during NaNoWriMo, so there was no way I would be able to actually read a print copy of the book in time for the discussions, but I did want to follow along with the story because it is
really
something I should have picked up by now.
Tom Merritt, one of the show's cohosts, mentioned that the audiobook was quite interesting. He was reading a copy and listening to the audiobook at more or less the same time for a while and he noticed that the audiobook had a handful of chapters that his copy of the print book didn't. There have been so many editions of this book that some of the long, tedious chapters that have little to do with the story have been removed when the separate books started being combined. I was interested in these "extra" chapters and because Sword and Lazer is sponsored by Audible.com, I was eligible for one free audiobook through their promotions.
The unabridged version of this book is split up into the different books, so I did end up paying some money for it, but I figured the review would work better with the book as a whole. And I wanted to listen to the whole thing.
It took me a long time to listen to it because, like I said before, it is a long book and I will admit that there were parts, especially in later books, where I really didn't care what White was writing about, but I did enjoy the book overall. I loved the Sword in the Stone, which is one of the most familiar stories. I really liked discovering things that I didn't know about young Arthur as a boy and his tutelage under Merlin. I also really enjoyed The Ill-Made Knight, which was mostly about Lancelot, because there were a lot of things about Lancelot that I hadn't known from this story.
To be honest, I can't really remember specifics for much of the other books because TH White does tend to go off on long tangents and, because I had all the copies of the book to play straight through, some of those tangents blended together. And the ending was a bit of a weird non-ending because White assumes that you are already familiar with Arthurian legend and that you have your own ending that you like, which would probably be fine if I were reading this in print, but was a little disappointing to listen to.
One thing that I did notice that was rather interesting was the cyclical nature of listening to the book. I don't know if I would have noticed it if I were reading it in print, but Arthur starts this whole tale as a naïve boy trying to figure out how things should be in the world and the last book of the series has him turned into a boy when he is an old man as he tries to figure out how things should be in the world now that he's changed it. Traditionally oral stories have this same sort of cyclical telling, which is why I think this story really works well as an audiobook.
Also, Neville Jason is an amazing narrator. He's one of those readers who does all the voices and really puts himself into the different characters. Sometimes I would forget that the whole story was being read by one man because he has a different, unique voice for each character.
I do intend to read a print copy of this series one of these days, but I would definitely recommend this audiobook.