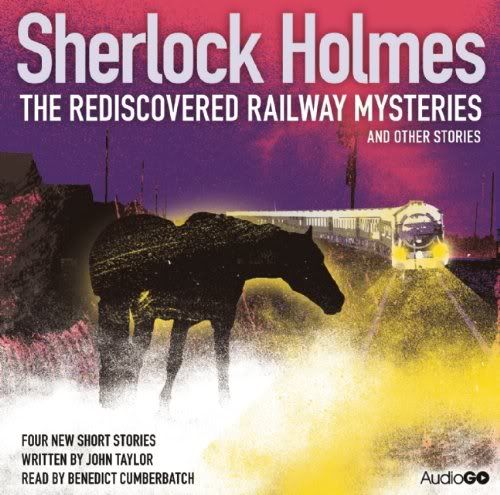 Sherlock Holmes: The Rediscovered Railway Mysteries and Other Stories
By John Taylor
Narrated by Benedict Cumberbatch
In a drawer in his bureau, Dr Watson keeps a locked cedar wood chest - a 'box of secrets'. It contains an archive of notes referring to some of Holmes' cases that, for one reason or another, never saw the light of day. Now, for the first time, Watson has decided to reveal the truth to the world... In these four thrilling stories, Holmes experiments with the science of ballistics, locates some missing gold bullion, investigates the theft of a large amount of money and solves the baffling mystery of the Stovey murder.
I had an accidental Audible credit (because I'm an idiot and forgot to cancel my membership after the free trial), so I figured that I might as well spend it on a Sherlock Holmes story. I've been on a Holmes kick for the past couple of months. I swear, the fact that Benedict Cumberbatch narrated this was just icing on the cake. I didn't get this one just because I'm obsessed with him. I swear.
The weird thing about these stories is that I feel like I've read them before. I don't know how that can be. The only non-Sir Arthur Conan Doyle Holmes stories I've read that I can remember are The Holmes-Dracula File and A Study in Emerald, so I don't know where I think I know these stories from, but they seemed incredibly familiar. It didn't lessen my enjoyment at all. In fact, I enjoyed these a lot. But it was one of those things that stayed in the back of my head.
Benedict Cumberbatch, as always, knocks it out of the park with his narration. He has a different voice for every character, which is fantastic, and he manages to hit on those specific traits of Watson and Holmes with only the use of his voice. It's amazing. His Watson voice is how you imagine Watson's narration voice and his Holmes voice is, oddly enough, Brett-like. He makes Holmes sound so much like Brett!Holmes. It pleases me fanboy soul.
I definitely recommend this one for Holmes fans. These are stories that are well written and brilliant Holmesian mysteries and Benedict Cumberbatch is a phenomenal narrator. It's definitely worth having a listen to.