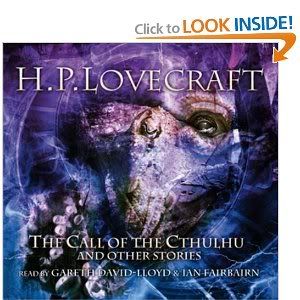 The Call Of Cthulhu and Other Stories
by H.P. Lovecraft
Narrated by Gareth David-Lloyd and Iain Fairbairn
This is an audiobook that I've had for over a year now. I don't quite remember, but it might very well be the first audiobook that I ever downloaded. Audible sponsors a handful of the podcasts I listen to and, after hearing the many praises of the Audible services, I decided to try out one of the promo codes.
Lovecraft is one of those authors whose work I am familiar with, but never sat down and read. I had wanted to for a while, but hadn't quite managed it. And I had found out that Gareth David-Lloyd - of Torchwood fame - read one of the stories for this audiobook, so it seemed to be the only logical choice.
The book starts out with "The Hound" narrated by Iain Fairbairn. While I enjoyed the story, I was distracted by the narrator's voice. There were times when he slurred noticeably and he mispronounced "Necrinomocon." His narration was also kind of… flat. There is great potential with this story to get worked up into a kind of frenzy or to start out in a kind of frenzy and slowly give up hope as the story unfolds, but he did neither. It pretty much stayed the same throughout. It isn't bad – certainly not the worst reading I've ever heard – but it's not the greatest, which makes it a little disappointing.
In contrast, Gareth David-Lloyd's reading of the title story, "The Call of Cthulhu," is phenomenal. When the narrator is talking about sure things – about his uncle and the Louisiana inspector and all aspects of the story not about the Old Ones – his voice is calm and even and strong. Once the narrator delves into the deep, he begins reading very softly and despairingly. From what I've seen of his acting, Gareth is a very deliberate actor – he's one of those people who is always doing something in the scene, even if he is not the main focus of the shot. He uses his voice in the same way with those ups and downs in his reading. But the best thing about his voice work is how he uses silence. That's where the horror is and it's magnificently dark and satisfying.
Especially if you listen to this wearing headphones. In a room full of people. I listened to it at work. It was chilling.
This audiobook is worth it just for that story.
But that's not the last story. Iain Fairbairn returns for "The Festival." I had the same problems with this story that I did with "The Hound," so it seems that I'm not a fan of Iain Fairbairn's reading. However, I do think that he did a more effective job of narrating the tone of this story.
So, overall, I recommend this to you all. If you are a fan of HP Lovecraft or of good old fashioned monster horror, definitely check this out. Listen to a demo of Gareth David-Lloyd's reading if you are unsure, but his story makes this one of my most played audiobooks.