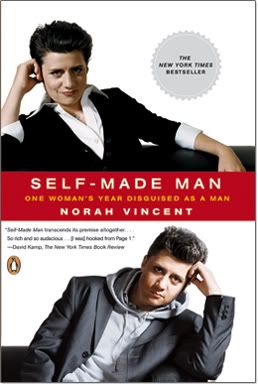 Self-Made Man: One Woman's Year Disguised as a Man
Self-Made Man: One Woman's Year Disguised as a Man is a psychological and sociological look into the perception of gender divides from the point of view of Norah Vincent, who spent over a year living as and cultivating the male character of Ned. She infiltrates such male environments as an all-male bowling league, a monastery, a 'high octane' sales position, and the local strip clubs. She even lands a few dates as Ned to try and understand what it is that makes men and women so different.
I found this book fascinating. I'm very aware of gender associations and the divides between the two in my personal life, but it was extremely interesting to see it from the other side of the spectrum. I found myself nodding along to the observations she had made of the men and women that she interacted with as Ned and was intrigued by her reactions to the environments she was in.
I'm a bit biased because psychology and sociology are great interests of mine, but you don't have to have taken classes in either of those to enjoy this book. Vincent approaches this book like a presentation, addressing questions that you would ask at the times you would ask them and generally taking on a conversational tone throughout the book. It's quite easy to read through and if she does mention anything 'technical', she provides a clear and detailed explanation of what that means.
I would recommend this specifically to anyone with an interest in either psychology or sociology, especially those interested in gender studies. However, I think anyone could learn something from a book like this and would encourage you to pick this one up, even if you've never been interested in the subject before.